Island X King Eider Hunts Offered Dec 27th -Jan 23rd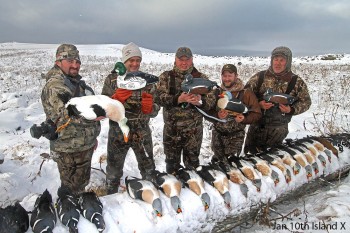 Island X King Eider Hunts can be booked for Dec 27th -Jan 23rd. We take 6 hunters per hunt with 3 guides to provide the most personal services available. Hunts run 6 days with 4 full days of guided hunting. We start our hunts December 27th and run until January 23 when the season closes. All meals are provided, as well as lodging and fully guided hunting over decoys with boats. The average temperature is about 25 -35 degrees and we hunt in snow camo since the normal backdrop is snow covered shorelines this time of year. During the 2009 January King Eider Hunting season our hunters averaged 2.5 mature Drake King Eiders each and many hunters limited out with 4 King Eiders. During the 2010/11 Season our hunters harvested 95 King Eiders with an average of 3.6 Kings per hunter, along with many limits of Harlequin and Old Squaws with a record year on Common & White Winged Scoters. No Whining allowed only real duck hunters looking for the best King Eider hunt in the world !!!!!!!
---
AIW Specialize in tharvesting mature King Eiders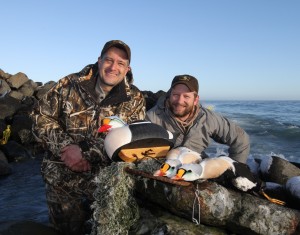 On a Island X in the Bering Sea is where Aleutian Islands Waterfowlers offers it's Trophy King Eider hunts. We operate a 2006 17ft Ron Bankes duck boat along with a 12 ft zodiak with Yamaha motors for transportation to the King eiders and remote parts of the island. Hunting over custom made E Allen King Eider decoys each day offers our hunters close shooting at Kings & Harlequins. Each day 3 hunters will hunt from our Bankes boat and 3 hunters will hunt from shore on rocky points over decoys using the Zodiak to retrieve downed birds, A hunter coming to Island X King eider hunting will have a great opportunity to harvest a pair of mature King Eiders, Harlequins, and Old Squaw. The weather on Island X will be winter conditions and frequent storms can be very harsh.
---
Island X The Worlds Most X-Treme Seaduck Hunting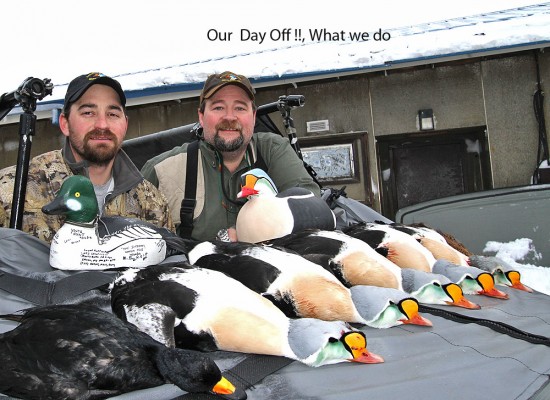 Island X is located in the Bering Sea 700 miles from Anchorage and is truly one of the wildest place to seaduck hunt on the planet. It is here where the last great stronghold of huntable King Eiders flourish, Island X is one of the few places left in the world where the Trophy King Eider is taken by sport hunters on a regular basis over decoys due to its unique location and fertile marine ecosystem and shallow water. Island X is the place to be if you want to harvest mature King Eiders, Harlequin, and old Squaw though the hunt is mainly for the Trophy King Eider enthusiast.