Videos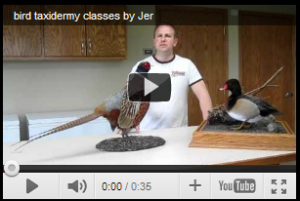 ---
Student Feedback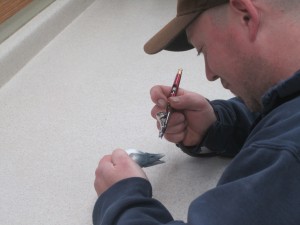 I had the opportunity to spend some time with Jerry at his studio. His attention to detail and the quality of work that he does is unsuprassed. My birdwork has drastically imporved due to the one on one time I spent learning from Jerry. I would stronly recomend him to anyone considering learning bird taxidermy.
Nate
---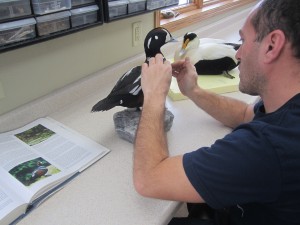 I can honestly say that anyone wanting to mount "true to life" waterfowl needs to spend time with Jerry. His skill does not end with mounting world class waterfowl. You will leave with a wide range of knowledge from the basics of bird taxidermy to the advanced skills for habitat creation and everything in between. I had a great time learning the skills that will make me a better taxidermist.
David D
Canada
---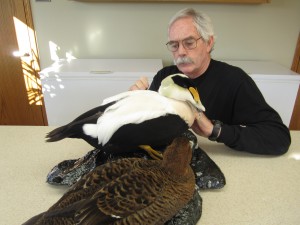 With approximately twenty years experience in taxidermy, I have had the great opportunity to be able to study and take classes from some of the nation's best avian taxidermists, and I must say that the recent week long class with Jerry was by far the most exciting and informative instruction I have experienced. Jerry's attention to fine detail along with the ability to teach the finer points of anatomy will propel my work to the level I have been working toward. Add to that, the amazing instruction provided on casting, habitat construction, and composition will undoubtedly add to the realism of my final product. If anyone has ever considered training to improve their skill level, I would highly recommend Jerry and FlywayTaxidermy...from the moment you set foot into the showroom and then enter the studio, you will soon realize that you have come to the right place.
Dan B.
---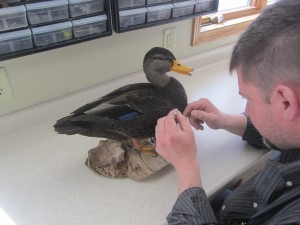 I had the pleasure of spending some time (a three day course) with 2 time world waterfowl champion, Jerry Froelich, and it was simply amazing. If your interested in learning all the "in and outs" of bird taxidermy, then I highly recommend Jerry's course. You'll be blown away by the knowledge Jerry can transfer to you, even if you have been doing bird taxidermy for years. He is very patient and works with you so you understand the process vs. telling you once and moving on. You'll learn everything from skinning, fleshing, painting, anatomy, mounting, grooming, eye rings, habitat composition, etc... I wish I could have spent more time with him. Thank you Jerry and Pam for such a wonderfull experience!!
George H.
---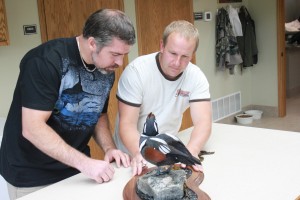 I am writing to personally describe my recent training experience at Flyway Taxidermy. I spent 5 days with Jerry. The hospitality provided by Jerry was world class. Transportation to and from the airport and the hotel to the shop was provided each day. Jerry tailored the course to my individual needs and paced his instruction according to my progress. Jerry was an open book to all of his techniques which has helped him achieve great success in competitive waterfowl taxidermy. Jerry is a fantastic instructor who is open for criticism to improve his program for future students. The training environment was absolutely immaculate and very well set up. I recommend anyone interested in waterfowl taxidermy seriously consider training with Jerry, regardless of the cost. The environment was friendly, relaxed and I had a great time! I'll be back for sure.
Jeff
---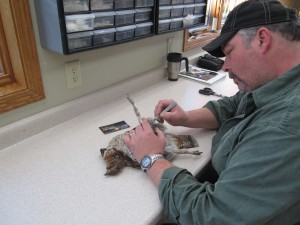 Attending Instructional Courses with Jerry at Flyway Taxidermy was a phenominal experience, and a sound investment in furthering my taxidermy career. Jerry's attention to detail is second to none and his knowledge of taxidermy is encyclopedic.
Thank you for a great learning experince,
Ron P.
---
I had the pleasure to spend a week at Flyway taxidermy learning bird taxidermy with Jerry. Jerry's knowledge for birds is amazing. I learned things that I had no idea i would even learn about not only mounting birds, but live birds as well. I had an all-around excellent time. I'd recommend a week with Jerry wether it be to learn bird taxidermy or habitat.
Adam M.
---
I worked with Jerry for three days in the study of advanced habitat construction. We covered a lot of material in a three day period. I found his instuction to be very informative. I also learned some new ways to cut cost and time while producing a quality habitat scene to compliment any mounted waterfowl species. The information Jerry provided was complete. He gave me information on which product to use for what and where to order it from. The most important instucton of all was what I learned not to do! The instruction is woth the money if you have a desire and willingness to take the time to learn.

Thomas A.
---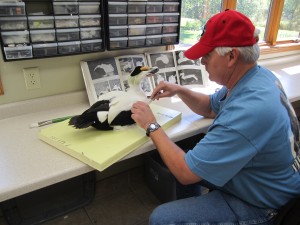 I just finished an awesome week of training with Jerry Froelich at Flyway Taxidermy. Jerry is a great guy and a great teacher . The habitat work was amazing . Also learned some casting techniques and finishing techniques . I`m sure my bird work will much better , thanks to the training from Jerry . Wish I could have spent another week or two with him , there is so much to learn from him. He is a very talented man.
Randy
---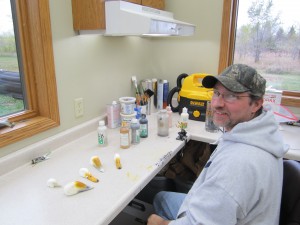 Jerry was very infomative on all aspects of bird taxidermy.He teaches you everything you need to know to mount birds the right way not just ok .From skinning to fleshing to mounting he covers everyhing.I would reccomend his class to anyone who wants to learn or improve on there bird mounting skills.
Richard.
---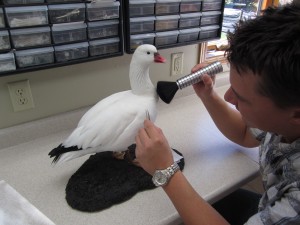 Jerry put's on a first class aperation!! I was new to the taxidermy industry and Jerry showed me not only the basics, but but how to add "life" to the bird.
Wingbeat Taxidermy

Craig S.